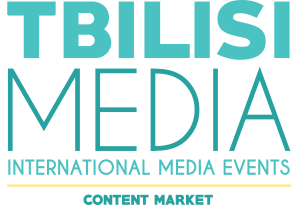 If you are a representative of media industry in the Caucasus region and care about the development of your media, we can give you a unique chance and invite you the Content Market. Content Market, a part of Tbilisi Media – International Media Events, will be held in Tbilisi on 27-28 September.
Tbilisi Media's Content Market is a unique event in the Caucasus region. The event was first held in 2016 and found success very fast. Content Market was attended by the leading content creator companies and content distributor companies.
In the frames of the event, television, film, production and various other media companies have a chance to meet their colleges and potential clients, create lasting formal and informal relationships, get acquainted with trends and novelties of the media field.
In 2016 Content Market laid a foundation to many successful partnerships. This raised interest in the event from distributing companies. This year, Content Market team is in active dialogue with old and new participants.
Tbilisi Media creates a unique platform to unite people work in visual and media fields. This is an event not only for media companies, but also media field individuals. Tbilisi Media is the best place to share information and knowledge.